Join us online
Tuesday, November 24 at 7:00 PM
for our Annual Community Thanksgiving Service.
This service is hosted by the Nixa Ministerial Alliance and will benefit them and Least of These this year.
The service will incorporate many churches in Nixa and will have music from the Junior and Senior High Choirs from Nixa.
This is always a wonderful service.
Hop on our Facebook page at 7:00 PM and join us for a memorable service.
ARK Advent Adventure
Join the ARK crew for an Advent adventure! Beginning, Sunday, November 29, Mrs. Amber and Miss Abby will post weekly Advent lessons on the ARK blog,
https://children49.wixsite.com/aldersgatekids
.
Sign-up to get an advent packet with activities to go along with each weeks' lesson. There will be no in-person Sunday school starting November 29 until after the New Year.
Packet pick-up starts Wednesday, November 18 during the ARK club from 6:30 pm to 7:15 pm. Or stop by during office hours 8:00 am to 4:00 pm starting Thursday, November 19 through Christmas. You can also pick-up on Sunday mornings at the ARK welcome desk. Sign-up for one packet per child.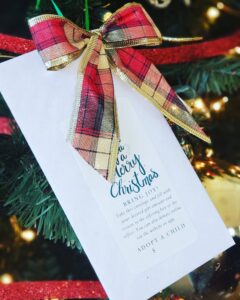 The Angel Tree
is set up in the Commons area and ready for you to take an envelope home with you to fill. We are asking for monetary donations only this year so that Least of These can provide the safest and best Christmas for our children in need. Please return your envelope back to church and place in offering box or at church office by the end of November.