By: Marcy Barthlette
It's not that I have already reached this goal or have already been perfected, but I pursue it, so that I may grab hold of it because Christ grabbed hold of me for just this purpose. Philippians 3:12
A few summers ago, our daughter had acquired an inflatable kayak, easy enough to transport in their camping trailer, and she set out on a little adventure in a state park setting. Our son-in-law and granddaughter dropped her off with definite plans for a pick-up downstream within the anticipated float time. As it turned out, that estimation was based on normal water levels but the stream was quite low at the time. She found herself dragging the kayak more than paddling and who knew how heavy an inflatable kayak could be?
When she had not reached her takeout point two hours after the anticipated arrival, her family became quite concerned. They went back to their campsite to see if maybe she had walked back there while they were away but there was no sign of her presence. The next step was to report her missing to the park ranger's office, whereupon an all-out missing person search began.
Meanwhile, our daughter had floated into the takeout, a little worse for wear, and went to a truck she thought was theirs but it was not. The folks, however, did get her back to her campsite only to find the rest of the family missing. They soon reappeared and all was well though everyone was pretty tired from all the excitement. And, of course, our family had another tale to tell at every gathering. You may be seeing a pattern here.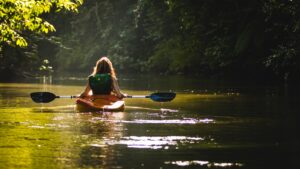 Fast forward to this past Christmas when Ken and I were searching for an ornament to add to our granddaughter's collection from us, and what did Ken see but a tiny blue kayak ornament. Obviously, that kayak just had to be on Jeni's tree so we finished our shopping and proceeded to the checkout. Ken had three ornaments hanging from his fingers and several other items in his arms. Need I explain that the kayak slipped from his fingers onto the floor where the tip broke off. We searched and searched for the missing piece and couldn't find it so Ken went back to look for a replacement. Every customer in the ornament aisle helped him try to find one. Meanwhile, when our clerk cleared all the other customers in line, she asked me what ornament we were looking for and when I told her, she said she had just straightened all the ornaments the night before and that was the only kayak left. At that moment Ken walked up with a couple of other possibilities in his hand because he couldn't find another kayak. But they just weren't right.
Once again, the search began for the missing piece. We thought we could glue it back together and make it look new. Everyone in line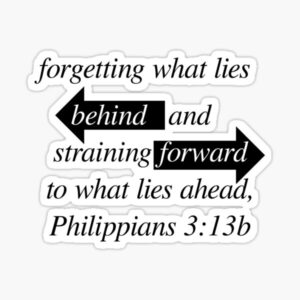 joined the search….not one person complained about having to wait. The Christmas spirit was alive and well in that place. And, would you believe, about fifteen feet from where he'd been standing when the ornament fell, he found it. The break was clean. We knew we could fix it. And besides, this whole story is about imperfect situations. The float trip had been imperfect, yet all ended well and we all had something to tease Jeni about. The poor little kayak ornament took a mighty tumble and yet, it was repaired to look like new (well, maybe not quite but it became a great metaphor for a misspent) float.
And you know, that tiny blue plastic kayak is a lot like us, imperfect and yet very us able. Perfection is a trait that we can't achieve on this earth and yet, we have so much potential. How will you use yours?
…but I do this one thing: I forget about the things behind me and reach out for the things ahead of me.
Philippians 3:13b