By Marcy Barthelette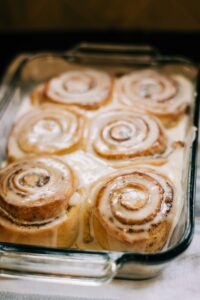 Does anything smell better than fresh homemade bread baking in the oven? I can remember those cinnamon rolls my mom baked for the childhood version of me just like it was yesterday. I'd wake to the sweet-spicy aroma tickling my nostrils and nobody had to call me twice for breakfast. Mom's cinnamon rolls were certainly one of the best things I had ever smelled or tasted in my young life and, though she's been gone to heaven for more than thirty years, that memory remains stored away and I recall it any time I smell any kind of bread baking.
Over the years, I have experimented with many recipes requiring yeast, and I must admit to abject failure. Yeast and I do not enjoy a friendly relationship, a fact I have so often regretted. Even with the introduction of automatic bread makers and the myriad selection of mixes taunting my misplaced ego from the grocery shelf, my bread was still heavy and sometimes a little doughy. I couldn't seem to create a light, airy loaf no matter what I tried. And as for cinnamon rolls, the only edible ones made in my kitchen came from frozen lumps of dough or a whomp-it-on-the-counter container. What a sad testament to my culinary skills. There are lots of things I can cook well but yeast products have never made the list.
Bread can be made with four simple ingredients: flour, warm water, yeast, and salt. Other ingredients may be added or substituted to affect taste and texture, but these four are basic. Water temperature can make or break your attempt at bread baking so it's important to be sure it's neither too cool nor too hot. I was taught early in life to make a well in the center of my flour and then add the yeast, water and salt, mix thoroughly to allow the yeast to do its magic, and knead until the dough was smooth and elastic. But no matter how many attempts I made, I never developed the skills to create really good bread and I think I'm beginning to see a metaphor here for my current state of mind. My "spiritual well" is sometimes like the breads I tried so hard to make; so heavy it weighs me down, a little doughy from all the distractions of everyday life, and sometimes just plain flat because it didn't get the proper "kneading" to help it flourish.
Jesus taught this parable: What shall I compare the kingdom of God to? It
is like yeast that a woman took and mixed into a large amount of flour until it worked all through the dough. Luke 13:20-21 NIV
In contemplating Pastor Dennis' sermon from this past Sunday, I was struck by the idea that we are God's "yeast" in the world and that it is our calling to grow that yeast and to share it with others. Right now, I'm finding that concept especially burdensome. After a brief respite from restrictions and because our area has become the epicenter for the Delta variant of COVID, Ken and I are back to avoiding crowds, wearing masks, etc. Yes, we are both vaccinated, but as we have heard, vaccinated people seem to be susceptible to Delta and we feel precautions are in order for us. Having to stand aside while a daughter struggles with the breathing difficulties that often accompany the virus has made us even more aware of its presence. So my spiritual well has taken a major hit. I need to stash a bit of spiritual yeast in my heart and mind and encourage it to grow. I need to talk with God and read His word and awaken my awareness to all the good things that still exist in my life.
I'm grateful for technology so that we can text or talk whenever we feel the need for an update on our daughter's condition. I'm grateful that she married a good man who is sharing this journey with her at his own peril. I'm grateful for first responders, doctors and especially nurses who give when their personal well must be very dry. I'm grateful for hospital administrators who have to make the hard decisions that impact lives. I'm grateful for our church family which has remained connected throughout the trial we know as COVID 19. And every time I look out my back door and see tall phlox blooming in many colors and swaying in the breeze, I'm reminded of His constancy in my life.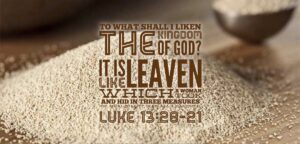 We never know when our troubles will end but we do know where to find the liveliest yeast and a fountain of Living Water. So, along with me, drink the water and "knead" a little yeast into your heart. We'll all be better for it and when we're filled to overflowing, those around us are bound to be touched by the yeasty scent of God's love.
Dear God, help me — and all those who feel their well is dry — to feel the warmth of the sun on my back,
to see the glint of the light in the heavens, and to feel the joy of You blowing gently on my face.
Scott Walker, Daily Guideposts 2021 (unitalicized portion paraphrased)