By: Marcy Barthelette
I am the Vine, you are the branches. When you're joined with me and I with you, the relation intimate
and organic, the harvest is sure to be abundant. John 15:5 (MSG)
Every gardener experiences an adrenaline spike when a spade full of soil uncovers a collection of earthworms!
These little wonders are a gardener's best friend! They work through the soil ingesting decaying material; they
then fragment it, add nutrients, and pass it back into the soil. This age-old natural process produces well-fertilized soil that is aerated sufficiently to provide drainage for all growing things.
The insect world may include many garden predators but it is balanced by a sizeable collection of friendly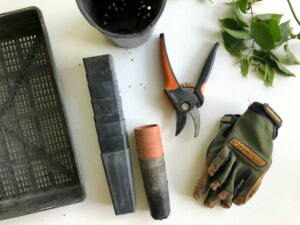 species. Ladybugs, lacewings, praying mantis, certain wasps, and beetles, as well as spiders, can provide a
variety of protections. A little online research can point even the novice gardener to the correct solution for their
specific problem and help find a method to attract that beneficial insect in a natural way. Insects require host
plants so learning which ones to use as well as when and where to use them can net very rewarding results.
Another important friend in the garden is a collection of sturdy well-maintained tools designed for specific tasks.
You'll need pruners, of course, along with a spade and shovel, trowels in various sizes and shapes, a good
rake, and a few others as you learn your specific needs. A visit to a few thrift stores and yard sales can net
some great bargains with lots of life still in them. Remember to clean all your tools after each use and oil when
necessary to keep them operating well. Store them in the same dry place each time you use them so you
always know where to find them.
Just as it takes an army of weapons to grow a healthy garden and enjoy an abundant harvest, we need to
cultivate good personal habits in order to build a healthy spiritual life. Every day we must make conscious
choices about the way we live.
Separated, you can't produce a thing. Anyone who separates from me is deadwood, gathered up and thrown on the bonfire.
John 15:6 (MSG)
What behaviors can separate us from our relationship with God? How do you suppose He feels when He sees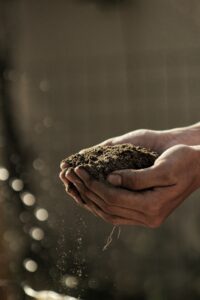 us reading books, listening to music, or watching movies that dishonor Him? Do you think He wants us to
damage our bodies with dangerous substances or even foods that are unhealthy? And what about the
language we sometimes use when things don't go as planned? I've learned the hard way that when my
relationship with God is wavering it's because I have strayed. He is constant but I sometimes have the urge to
wander a bit. And that's when He prunes the deadwood. Thank goodness He has a well-maintained pruner
because I need to feel it more often than I want to admit. We need to choose our friends and activities wisely,
just as if God were watching all the time because He is. When we choose unwisely, He is hurt and
disappointed, just like an earthly father only more so. We are His creations and we should strive to please Him.
Jesus understands our temptations because He experienced them too. He honored His father by not caving in.
God guides us through life. He's the one who knows the pitfalls and dangers, and He's the one
whose voice we can trust and listen to. Bear Grylls, Soul Fuel
I believe God wants us to follow His written guidelines and to care about all His people. He wants us to share
His word and His love with people everywhere. Others often need to feel His love in action before they can
absorb His word and sometimes that means we must be in places where we are less than comfortable. If we
are there to do His will and share His love, then God will be present with us. And sometimes we find new
friends in places we never expected, a harvest of new believers.
Just as a dad wants to come home and share the day's experiences with his kids, God wants to hear directly
from us. We just need to talk to Him. It doesn't matter where we are, what we say, or how we say it. He already
knows our hearts but He wants us to share with Him. We can talk to Him during the busyness of our day or in
the quiet of a sanctuary. It matters not, He just wants to hear from us. Think of it as a teen checking in with
parents or a child seeking an answer to a question about the universe. God wants to hear the good, the bad and the ugly of your life. Lay it on Him, share those burdens. He can take it and He'll give you the help you need if you let Him. Make yourself at home with Him. He is the best friend you'll ever have!
But if you make yourselves at home with me and my words are at home in you….John 15:7a
Next week we'll explore the meaning of home…