By: Marcy Barthelette
Children, obey your parents in the Lord, for this is right. Ephesians 6:1
If there is a teen in your immediate sphere, or an almost teen, perhaps an even younger child, you're likely aware of his or her highly inflated assessment of his or her knowledge. And you've most likely been the object of said child's manipulation, sometimes openly but often accomplished in a rather covert manner. I'm sure you have a hoard of stories about being played against one another as parents or grandparents. You know the drill, "Mom…Dad says it's okay for me to stay over at (insert name's) house after the game." And you learn later that Dad said something entirely different but close enough to pass for his permission in the eyes of your child. And kids learn very quickly that they are the apple of their grandparents' eye. They certainly use that fact to their advantage.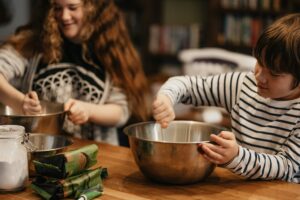 Our daughter's family visited last weekend as a pre-Thanksgiving celebration. The guys and our granddaughter spent a lot of time outdoors, raking and burning leaves as well as completing a few minor house repairs. The kids also helped us move some furniture that we didn't want to tackle ourselves. Our granddaughter has become very helpful in the kitchen. She's learning to cook and progressing nicely. We had given her a recipe file with all of her favorites from my recipe collection and this trip she chose to learn to make meatballs and spaghetti. She's very willing to dive in with her hands and thoroughly mix all the meatball ingredients. Her meatballs may not all be of uniform size but they are very nicely rounded. She says it's because of the hours she once spent with Play-Doh. Who knew? She also helps with salads and with cleanup after the meal. She is learning to abide by Grandma's rules of the house and Grandpa's teaching of proper behavior. But when her parents tell her to do anything, an argument ensues. I know this is pretty typical behavior in any of our offspring, but I seem to find it even more exasperating with a grandchild than I did with my own children. Why do children choose to be obedient and helpful to anyone they encounter except their own parents?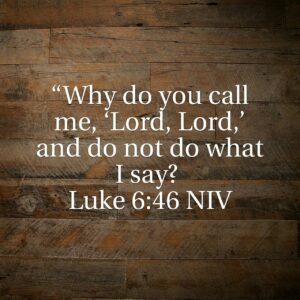 Why do you call me Lord, and not do what I tell you? Luke 6:46
Uh, oh….I think maybe I had better take a look into my mirror! I wonder how many times I have disappointed my heavenly Father by arguing with his plans or ignoring Him altogether. I can be very stubborn at times and I have a bad habit of wanting to do things my way. I think that as I've grown older, I've been more accepting of the suggestions of others and, hopefully, I've learned to follow that old axiom my generation grew up on; "If you don't have anything nice to say, don't say anything at all." And yet, a temper flares; we're told to do something that is in conflict with our will; and we plunge ahead on our own reckless path regardless of the personal fallout or the consequences to others who have become involved, inadvertently or by choice. How can I expect the young people in my sphere of influence to be obedient and respectful when I am often guilty of the same disobedient behavior? His promise is to always have our best interest in mind and yet we just can't let go and let God take the wheel on this journey.
For I know the plans I have for you says the Lord….Jeremiah 29:11a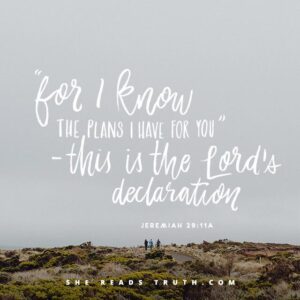 As we take time this week to enjoy the turkey and stuffing, the cranberry sauce, and pumpkin pie, I hope we will also take the time to be thankful for all the blessings of this past year, to witness the amazing creation that surrounds us each day and to take a really good look at who we have become. Sometimes facing the truth can be difficult but the reality of a true relationship with our heavenly parent infinitely exceeds all the hope we had placed in our own plans. I'm grateful to have faced that truth. He will stay with me always, may I also remember to stay close to Him!
As for my granddaughter and all those kids traveling their own paths to adulthood, let's just hope we can provide a good example for them to follow, that they will be able to accept their own truths about who they are, and that all their exploring will one day lead them straight into the loving arms of the one and only God, just where they've needed to be all along. And please, Lord, help all your grown-up children reach their goals with them.
Lord, lead me in your loving truths to be a shining light in the lives of all your children, whatever their age.