By Marcy Barthelette
Be reasonable since God has measured out a portion of faith to each one of you. Romans 12:3b
Our youngest daughter and her family just returned from a wonderful trip to Yellowstone and Grand Teton National Parks. Each evening they uploaded the day's photos to a shared online album so we were able to see the majestic vistas they had visited on that day. We thoroughly enjoyed experiencing those natural wonders with them through the miracle of technology. In fact, it became the highlight of our evenings. Only one night did they not send photos. We simply received a message that they were exhausted and would send photos the next day. And when they came, we understood. They included a shot of one of their apple watches and the figures were staggering. They had walked nine miles, over 22,000 steps, and were in the park for just under fifteen hours. I'm not sure I'd still be alive after all that, but the images they sent from their day of exploration were incredible. As awesome as this trip was, it didn't happen without some difficulties along the way.
In the middle of every difficulty lies opportunity. Albert Einstein
Let's rewind a bit to a few days before their scheduled departure. You may recall that Yellowstone experienced catastrophic flooding on
June thirteenth and our kids planned to leave on the twenty-first, just eight days after the water destroyed roads and bridges throughout the northern portion of the park. Everyone was evacuated and all entrances were closed until further notice. Until the damage could be assessed, there could be no decisions made regarding re-opening and the consensus was that it would be quite some time, probably not even this year in the northern reaches.
It was a period of concern and indecision for many who had reservations in the park and in that general area with Yellowstone being their primary destination. There were lots of cancellations, some were made by the park itself and others by individuals. But our kids didn't waver from their plans. Reservations had been made months earlier, much research time had been invested to ensure the best possible trip and they weren't letting go. You see, last year they had to forfeit their vacation because COVID came calling and they had no desire to give up another wonderful trip if there was any way to avoid it. They started by looking into alternative activities if, in fact, Yellowstone remained closed and they found there were lots of things they could do. Of course, it wouldn't be the same as experiencing Yellowstone, but many of those alternatives held excellent promise.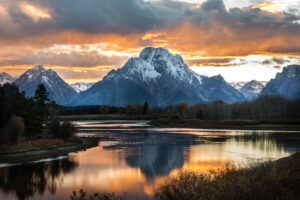 A few days before their departure, Yellowstone officials announced they would reopen the south loops of the park on June twenty-second. The kids were leaving the day before and would spend a night on the road and then two nights in Cody, WY before entering the parks. They were to spend a full week at a campground located between Yellowstone and Grand Teton and administered by the National Park Service. (It, by the way, turned out to be gorgeous.) Their arrival was June twenty-fourth. Yellowstone was allowing entry into the park by means of a system that admitted cars based on the last numeric digit of their license plate number. An even number on the plate equated to admission on even-numbered dates and those with an odd number on the odd-numbered dates.
The only difference between stumbling blocks and stepping stones is the way in which we use them. Anonymous
As it turned out, the kids would have three full days to spend in Yellowstone and another three exploring the Tetons and other attractions in the area. Our granddaughter was able to earn her junior ranger award in both parks. Ironically, they arrived back home on the same day that most of the roads in the badly damaged north loops were re-opened and the license plate system was lifted, July second, much earlier than originally anticipated. Through the tremendous efforts of many agencies, ninety-three percent of America's first national park was re-opened in less than three weeks following the mass devastation. This is certainly proof that we can all accomplish much more when we work together.
But here's the real truth behind this miraculous trip. Our kids never lost faith that it would work out. They had made all their plans in the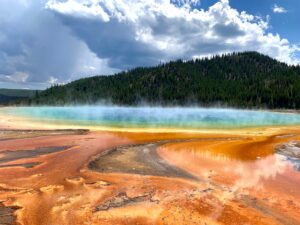 confidence that it would be one of the best trips ever and then life and nature intervened. They could have canceled their reservations and taken the accompanying financial hit, then traveled in another direction. But they researched again, made compromises, and carried on because they believed everything would be OK. And it was. They pulled their camper safely over the more than 3500 miles that comprised their trip. They witnessed wonders that only a God with a very creative mind could have wrought. And He held them safely in the palm of His hand through it all. They had faith that He would take care of everything for them and He did.
Faith is not the belief that God will do what you want. It is the belief that God will do what is right. Max Lucado
How often do we give up when things don't go as planned? I know I'm guilty. How many times do we miss a totally awesome opportunity because of an unexpected roadblock? Guilty again! We would all do well to remember that God is always in control and He offers endless opportunities, even if they differ from our plans. And they're usually much better!
On this adventure of faith, we are promised the presence of God in our hearts, His strength to sustain us, and His peace to surround us ─ fully equipped, ready to roll. Bear Grylls, Soul Fuel