COME TRY OUT A CLASS ANYTIME! CONTACT THE CHURCH OFFICE FOR MORE INFORMATION.
Sunday Classes
8:15 AM
Crossroads, LC 207-
Leader – Ralph Ernst – They are currently studying "The Chosen"
Club Aldersgate, LC 205- Leader – Brannon Buchanan – They are studying the book of Acts
Seekers, LC 207-

Leader – David Swensen – They are studying the book of John
Weekly Bible Studies
We are so excited to learn with you!
Ladies' Morning Study
Ladies, meet with us on Mondays at 9:30 AM in LC 207 this group is led by Karen Shirer.
Spiritual Sisters – Ladies' Monday Evening Bible Study
For more information contact Jan Badgett.
1st & 3rd Mondays at 6:30 PM in LC 207!
Women of Hope – Ladies' Monday Evening Bible Study
This bible study group meets the 2nd and 4th Mondays of each month at 6:00 PM in the Youth Building. Starting Jan. 9 they will be doing a study called Get Out of Your Head by Jennie Allison. All are welcome to attend.
This study is led by Kayme Voelker, Lorie Miller and Cherie Gregory
Men's Bible Study
Men of all ages are invited to join together for a weekly bible study. This bible study meets at 6:30 PM in WC110 and is led by Steve Taylor.
Grow Group
This is a hybrid Life Group that meets on Wednesday nights at 6:30 PM in LC 207. This group is open to all and will spend time discussing the Sunday sermon and supporting each other in daily living. This group is led by Joe and Grace Bryson.
Pastor's Bible Study
Join Pastor Dennis in the sanctuary on Wednesday nights at 6:30 PM as he digs deeper into scripture. Currently they are in the book of Hebrews.
Aldersgate Time of Prayer
Sunday mornings at 8:00 AM, LC205
Tuesdays at 6:30 PM, Worship Center Restless Room.
We will meet weekly to pray for our denomination, our nation, elected officials, families and marriages, schools, and first responders.
Thursday Morning Study
Thursdays at 9:30 AM. David Jeremiah's The Book of Signs offers answers to questions about biblical prophecy. We'll cover every key sign of the approaching apocalypse and what it means for you.
Disciple 1
Thursdays at 6:30 PM. Know you should read the Bible, but don't know where to start? Wonder what the Bible means or how it could possibly apply to your life? Join me, Pastor Sarah, for an exploration of the Bible with the Disciple 1 Fast Track Bible Study! It was developed for busy people like you to learn about the Bible and develop the habit of reading and understanding the Bible! We will start with discovering how to apply what you already know about reading to reading Scripture. Then, we will spend 12 weeks together in the fall discovering the main themes, characters, and events in the Old Testament and how to apply biblical lessons to our lives. In the spring, we will spend another 12 weeks discovering those same things about the New Testament. Class will meet Thursdays from 6:30-8:30 PM upstairs in the Learning Center room 218. Cost is $18/semester for the study manuals. Can't wait to see you there!
Adult Wednesday Night Studies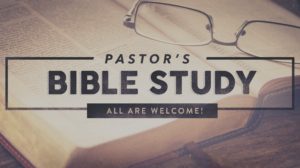 Wednesdays at 6:30 PM in the Worship Center
Join Pastor Dennis to dig deeper into the Bible in the book of Hebrews. Come anytime!

Wednesdays at 6:30 PM in LC 207
Grow Group is open to all adults who would like to discuss Sunday's sermon and also support each other in their daily lives.