Untenable Circumstances
There has certainly been a time in each of our lives when we have found ourselves in a seemingly untenable situation when the effort to continue just didn't seem worth the energy needed to complete the task. Maybe you were training for a marathon or a local charity run and by mile 5 every muscle in your legs was screaming so loudly you just didn't feel you could push any harder. Perhaps your newborn was waging a marathon crying session while your two-year-old screamed angry protests at all the attention his new little sister received. Maybe it's an addiction that claimed your existence and you just couldn't wait for another hit. Maybe dinner was left cold on the table because your spouse didn't come home or even call.
Imagine yourself a soldier training for elite forces. You have just run several miles up a mountain and down the other side in full gear including a loaded backpack. You meet the angry scowl of the drill instructor and he tells you your time was too slow. Your ride back to camp is pulling away and you are told you will retrace your steps and do it faster this time. A short way up the hill, when your body is betraying you, the DI calls "STOP". He says you can go back to camp now, but the exercise has taught him who is willing to go the distance.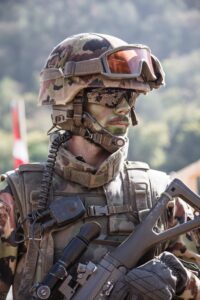 Or what if you've been sentenced to prison time and been transported to your new residence. You finish processing and a guard leads you through a series of gates that clang shut behind you. Imagine the helplessness and then imagine that you are innocent of the crime for which you were convicted.
What if you are the last soldier in a chain of protocol designed to prevent accidental detonation and you are standing watch over a simple button which, if activated, would change the course of history?
What if you take your seat on a plane in the midst of an epic storm. Three storms, actually, have converged in the middle of the country causing killer wind gusts, heavy cloud to ground lightning, and torrential rainfall. I can answer that question because I was that person in April of 1997.
I had joined my husband on a training seminar in Colorado so we could enjoy a little vacation time in the Rockies between classes. At the conclusion of his meetings, we headed back to the Denver airport with dark clouds looming overhead and light rain falling.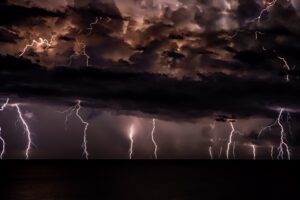 By the time we were processed and ready to board, neither of us wanted to make that flight. The rain was much heavier, lightning was flashing constantly and winds were howling. Our captain tried to put us at ease but failed miserably when he said that he couldn't return to Denver because they had closed the airport as soon as we departed. Our flight attendants were buckled into their seats, white-knuckled and terrified as we galloped through the clouds like a bucking bronco. Dropping thousands of feet in an instant and then rising back to a greater height than before was the pattern for this flight and it seemed it would never end.
My grace is sufficient in you, for my power is made perfect in weakness. II Corinthians 12:9
You'll remember that I am the "worrywart" of our family, but this time something changed. While my rock of a husband, the guy who is always my support in troubled times, sat next to me explaining about the inability of those wings outside to withstand the beating they were taking and how the fuselage was bound to split open from the pressure, I sat quietly reading a book. A calm came over me as soon as we ascended. It could only have come from God. A voice inside my head told me that I was either going to land safely in Springfield, MO as planned or I was not. And I couldn't do one thing about it…my future was not in my hands.
I have often recalled that night…we did make it home to our own comfy bed…and that experience has since given me strength and patience to get through any number of large and small emergencies. Oh, I often falter and become a worrier again. I'm human after all and I am still the family worrywart, but I have the unwavering knowledge that when God wants me to come home, I'll be ready because everything is best in His good time.
Each morning we all wake up to a brand new sparkling day and have another opportunity to make the most important choice of our lives. Do you choose God or do you choose self?
It is for us to make the effort; the result is always in God's hands. Mahatma Gandhi
Do you have enough faith to go the distance?
One more week…