By Marcy Barthelette
Show me the right path, O Lord; point out the right road for me to follow. Lead me by your truth and
teach me, for you are the God who saves me. All day long I put my hope in you. Psalm 25:4-5
During the long cold days of winter,
and we are deep in the middle of them now, I long for bright sunshine and warming temperatures so that Ken and I can plan a nice hike. Most years we head down to Roaring River State Park when we're blessed with a warm February day. Having worked and lived in the trout fishing parks for many years, we always get a little antsy to check out the stream and discover any changes that have occurred in the facilities during the off-season. We love to hike up over the spring pond and take in the panoramic view. During our almost 37 years of marriage, we've hiked in many diverse locations and they're all alike in one very important aspect. You need to pay attention to your guide map and watch for trail markers. Getting lost in unfamiliar terrain is no picnic so preparedness is certainly key to having a good experience.
A prudent person foresees danger and takes precautions. Proverbs 22:3a
And who among us hasn't fallen under the spell of a treasure map at some point in our lives? Humans are always attracted to anything that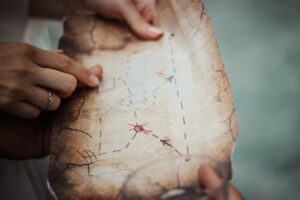 appears valuable and free. Many of us can recall a time when, as kids, we discovered what appeared to be an ancient map with an X on the spot where the buried treasure had been concealed. We just knew that if we followed the clues on that map to the letter, we would uncover a chest full of coins and jewels left behind by pirates. We never recovered tangible treasure, but the real treasure was in the fun and comradery we enjoyed on the hunt.
For a number of years, geo-caching replaced traditional treasure hunting by combining hiking and technology to discover an often-unusual cache in an eco-friendly site above ground. No digging required, just your smartphone, a good knowledge of your GPS app, sturdy walking shoes, plenty of water to keep hydrated, appropriate clothing for the weather and never forgetting to keep an eye on the radar if the sky begins to look dicey. A number of geo-caching websites offered endless opportunities for fun and exercise. A cache might be secured in any weather-tight container and might include small trinkets for finders to take. It was typical to also leave something behind. Sometimes a journal was provided for the finder to leave comments. Once again, the reward was in the enjoyment of the hunt and, of course, all rules of outdoor etiquette applied.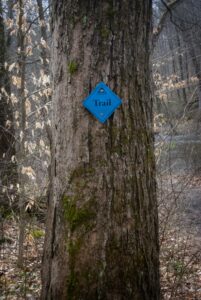 The most important part of hiking or treasure hunting in any form is correctly locating the markers on your map or GPS. Without those markers, we'd be completely lost, and doesn't that same rule apply to our spiritual lives. Our markers were set by Jesus when He walked this earth just like you and me. He taught us how to live our lives by placing the best interests of others first. At the wedding in Cana, when the wine ran out, he made more. And not just more, but the finest wine of the celebration. And he did this even though he was not yet ready to reveal himself. He fed multitudes of followers when he had often eaten little himself. He healed the sick who sought him even when it was inconvenient for him. He even brought the dead back to life.
We have this treasure in jars of clay to show that this all-surpassing power is from God and
not from us. 2 Corinthians 4:7 (NIV)
We humans don't have superpowers and reviving the dead is probably not to be found in our bag of tricks, but what is our response when someone needs us? Do we take the time to inquire about those needs? Do we try to provide for the needs or to guide those persons to someone who can help them? I find myself too often coming up short when I could be a light in someone's life. I don't know about you but I'm spending a lot of time at home these days and it gives me pause to consider who I have been until now and who I want to be in the days and years to come. I think I need to check the markers on my treasure map more carefully, for it is in God that I find my only true treasure.
You make known to me the path of life; you will fill me with joy in your presence, with eternal
pleasures at your right hand. Psalm 16:11 (NIV)