By Marcy Barthelette
Trust in the Lord forever, for the Lord is a rock for all ages. Isaiah 26:4 CEB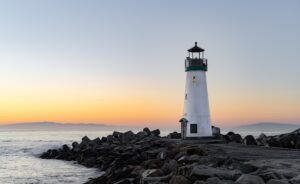 I'm pretty sure I've mentioned how much I love lighthouses at some point. What's not to like? They're always situated on the coastlines of large bodies of water and I know I've stressed my love of water multiple times throughout this journey of words we've traveled together. For the adventurous among us, they offer majestic views if we're willing to scale the stairs. No elevators there. They are a window into our history and many no longer play the role of sentinel. Technology has ended the chapter in their stories of ships passing in the night and through tumultuous storms because of the beacon they provided. But their stories live on in the people who dwell near them.
There's another aspect of lighthouses that I love, the fact that they often cling to the shore on which they tower with seemingly little to anchor them. Many stand tall upon rocky points where they appear to have simply sprouted and grown, much as the stunted trees that constantly fight harsh conditions to survive. At the same time that the lighthouse is anchored securely atop the rock, its light warns approaching ships of the danger of coming too close to those very same rocks.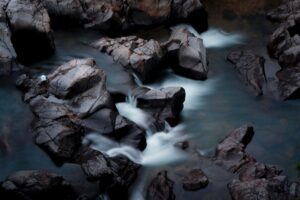 I can recall many times while floating down an Ozarks stream when I have sought the comfort and safety of a solid rock after a tumble from a canoe or being purposely upset from a tube, much to the delight of the perpetrator. Even sliding through the giant boulders at Johnson's Shut-Ins State Park here in Missouri often required grabbing onto an overhanging rock to keep from ending up in a precarious adventure.
Rocks, large boulders specifically, represent strength, solidity, and safety. When we're in or near a body of water, rocks offer a place to rest in the sunlight, absorb the warmth and feel the comfort of being secure.
You've certainly heard reference to a person who is in deep trouble personally or financially as finally hitting rock bottom. That person's life has traveled some very slippery slopes when he or she lands with a jolt on a hard rock surface and can fall no further. The rock provides a safety net and the only direction to go is up.
Rock bottom became the solid foundation on which I built my life. J.K. Rowling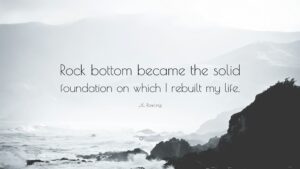 Jesus has often been referred to as our rock and he has also been tied metaphorically to a lighthouse. You can see where I'm headed with this. If you're sliding down some slippery slopes or your boat has been upset in rough waters, or you've hit the proverbial rock bottom, it might be a good time to look for a solid rock to grab onto. Shifting sands won't work, nor will mighty rapids. You need the security of the solid rock and the perpetual light from the beautiful lighthouse atop it.
He's waiting!
He only is my rock and my salvation, my fortress…Psalm 62:2a