Welcome To

FUSION
FUSION
is the Collision

of
God
with his
People
.
Our mission is for every high school student who walks through our doors to experience the Love of God and become his Disciples
We look forward to seeing you at one of our events!
Events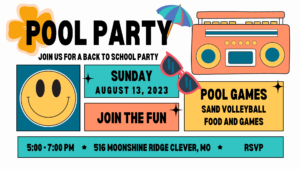 Youth Pool Party
August 13, 5:00 – 7:00 PM
516 Moonshine Ridge Clever, MO
It's time for our annual pool party!! We can't wait to see you all there. We will be playing sand volleyball, swimming, eating burgers, and enjoying each other. See you there!