By Marcy Barthelette
"The truth hurts," but not so much when offered in love.
My husband never meets a stranger. He perfectly illustrates the old saying, "A stranger is just a friend you haven't met." In fact, recently we were camping with our daughter's family and were ready to take dinner from grill to table when we realized Ken wasn't there. Our granddaughter quickly pointed out that he was talking with strangers again, so we promptly sent her to the neighboring site to retrieve him. No matter where we go, Ken can always find someone to chat with for a while. He has such a reputation that when we see a conversation beginning, the rest of us groan and roll our eyes, knowing that whatever we happen to be doing will be delayed for a while.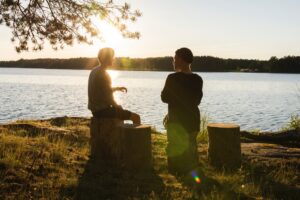 All that talking and listening has equipped him with valuable insights about the people around him. During his state park career, he made a point of learning about the people who worked in each of the facilities he served. Maintenance and office staff typically worked in the park nearest their home and those staff members knew their park, but Ken didn't. The superintendent was often the new kid on the block, so it was important to listen to his staff in order to make himself aware of their specific skills and also any family issues that might need to be respected. The information they offered helped all of them to work more efficiently. He also made a point of inquiring as to their hobbies because things they loved to do in their leisure time could lead them to being placed in a role that no one even knew they possessed the skills for. I know few people who are able to assess an emergency better than Ken and then react in a way that will facilitate a better outcome for everyone involved. His ability to methodically assess conditions and predict how an individual may react to situations has served him and others very well. I've learned a lot from him over the years about preventive behavior.
One of the most rewarding parts of his position in parks was to guide summer youth workers coming to the parks through government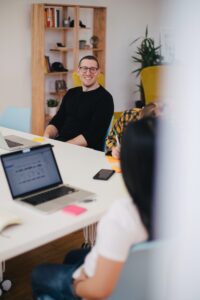 programs. Many of them had little guidance at home and limited opportunity to interact with adults outside the home. He enjoyed watching them grow under his leadership and at the end of every summer, each participant was required to attend a mock interview to help prepare them for a very competitive workplace. He scored them on everything from appearance to language and use of vocabulary. He taught them the things that didn't elicit a positive response from the potential employer as well as what was typically expected from an interview. He helped them understand how to greet the interviewer confidently and dress effectively for a good initial impression. They learned that the brand on your clothing was much less important than cleanliness, a good appearance, and a positive attitude. Believe me, some of them came to the interview requiring abundant constructive criticism and Ken delivered it with care.
Some of us are reluctant to accept constructive criticism and I often find myself included in that group. Sometimes we react differently when a spouse offers criticism as opposed to a friend or a total stranger. But it's important that we employ the same skills we use on the job to the family and friends relationships in our lives. It's often easier to listen politely to a stranger than to patiently hear what a person close to us has to say about our job production or personal behavior.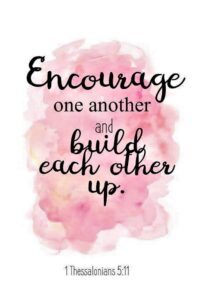 Therefore encourage one another and build each other up. I Thessalonians 5:11
That's where Ken shines. When someone is struggling with an assigned task, he takes the time to look at every angle, to consider which skills a person has that might better qualify him or her for a new position, one in which success would be more likely than in the job currently held. He then opens the conversation with kindness and praise for the good things the person has accomplished and offers options to move the person into a new position that could lead to greater satisfaction for everyone in the workplace. All of us are more likely to respond to criticism positively when we feel respected and appreciated. The same principles apply to both work and personal environments. They even extend to volunteer programs in churches, schools, parks, etc. The next time you find yourself wondering what to say when someone needs correction, think first about ways to build that person up and not tear them down. If you must criticize, do so in love.
Before you speak the truth in love, consider where a person seems to shine, what gifts he or she can bring to the job (or family). Be ready to present options that will maximize the individual's potential and expand God's kingdom.
Tony Dungy & Nathan Whitaker, The One Year Uncommon Life Daily Challenge