By: Marcy Barthelette
Living in the Most High's shelter, camping in the Almighty's shade … Psalm 91:1 CEB
We hadn't been camping since September of 2019 so our first venture in May of this year was cause for lots of excitement. We were to meet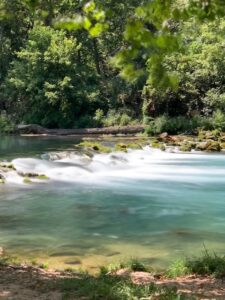 our youngest daughter's family at Bennett Spring State Park, the last place Ken managed before his retirement. It rained all the way there, but the skies dried out upon our arrival and after setting up our campsites, we gathered for a Mexican feast that was prepared at home. Our firewood was green and wet, but with a lot of coaxing we were able to enjoy a campfire and roast marshmallows, some of us indulging in s'mores. The next day, we headed over to the Mennonite community near the park and nearly bought out the bakery, checked out a few other shops, and shared some of the culture with our granddaughter. That evening, after a grand meal cooked outdoors, our kids fired up the Dutch oven and made a blackberry cobbler, this in addition to all those gooey baked goods we had acquired earlier. The kids went home on Sunday, but Ken and I stayed an extra night and really enjoyed hiking our old stomping ground and sitting by a beautiful campfire. Our dinnertime fare was less extensive than the previous evenings but was delicious just the same. A quick trip home the next day and life was back to normal again, except for those two freeloading ticks that hitched a ride, one on each of us.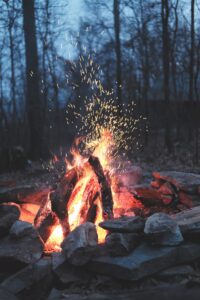 We live within the shadow of the Almighty, sheltered by the God who is above all Gods. Psalm 91:1 TLB
Our next outing was not so lovely, though. You see, "camping" has changed a lot in the last year and a half. Everything is done by online or phone reservation, you even check-in online. And many people who turned to camp because they felt it was safer to be outdoors during COVID found they really liked it. A fair number of them had become accustomed to working from home so why not the camper, as well. All they need is a mobile hotspot and a laptop and the office is set up, with very nice natural surroundings and the whole family along for the adventure. This, of course, creates a strain on facilities because sites are now full nearly to capacity even on weekdays. That leaves little downtime to mow grass, deep clean restrooms, and other maintenance activities.
So begins the saga of our second camping trip of the year. First, let me be clear, it takes vigilance to plan a camping trip these days. I check routinely for openings in our favorite parks. The site we reserved just popped up one day as I perused the website and I grabbed it. We had no idea what it looked like beyond the online image and those are taken to optimize the appeal of the site. We arrived around 2 PM to find our site completely in sun. There were no trees near us to provide shade throughout the middle of the day. It was 91º, both inside and out and our AC didn't stand a chance of gaining any ground until the evening cool down, so we went for a walk on the Lakeside Trail, hoping to find some shade and catch a breeze and we did. When we arrived back at our little RV, the shade had finally reached its side and the temperature had dropped to 86º indoors. Fortunately, I had made some nice, cool chicken salad in advance, so we were able to prepare sandwiches, chips, and fruit without needing to cook.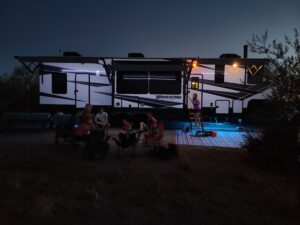 As we were enjoying our meal, a new neighbor pulled in beside us in one of the biggest fifth-wheel trailers we have ever seen. He backed in with ease but then decided he needed to be a little closer to the utility hook-ups. As he backed in for the second time it became clear to us, and a man across the road, that the driver was going to hit the power box. We couldn't get his attention quickly enough and he ran right over it, then pulled forward and dragged it back the other way. He wasn't concerned about damage, he just banged it back into a configuration that satisfied him and plugged it in. We hoped no damage had been done to the lines and that the power would stay on for all of us. By the time he was settled, his huge living area slide-out was hanging over our picnic table, the back of that behemoth trailer was seven feet from our fire grill and, of course, the view from under our awning, our only shaded place to sit, was not the great outdoors we came to experience but that gargantuan fifth wheel. Did I mention that it was so tall I wondered if it would clear an overpass?
The next day was just as hot as the first. We hiked again and our indoor temperature stayed in the mid-eighties during the heat of the day. We had brought cured firewood with us from home, so by evening, Ken set about building a very nice campfire, which we thoroughly enjoyed, though from a distance. The next morning, we'd had enough of the heat and the view. We headed home a day earlier than planned and relaxed in our nice, cool home.
You who sit down in the High God's presence, spend the night in Shaddai's shadow … Psalm 91:1 MSG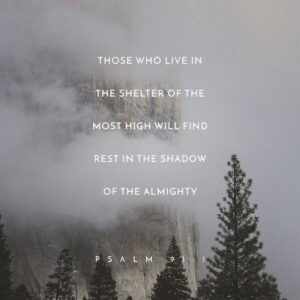 For obvious reasons, we have become a bit leery of this new camping world. The earlier version had been one of our greatest joys for most of our married life. But this little tale was shared to make a point. God has created some incredibly amazing natural wonders throughout this world, but we humans have a way of changing conditions to match our own wishes in the moment. The good news is that when we set aside our wants and establish our "camp" in the shadow of the Almighty, there will always be cool shade and beautiful surroundings. We no longer need to fret over the necessities of life. He will provide for us. Ken and I don't know if the enjoyment will return to our RV camping experiences, but we can be sure of our "encampment" with Him. My prayer is that everyone could know the joy of the verse that I have sprinkled throughout this piece in several translations:
Those who live in the shelter of the Most High will rest in the shadow of the Almighty. Psalm 91:1 NLT