By Marcy Barthelette
Pray continually. 1 Thessalonians 5:17 NIV
Be still before God and wait patiently for Him. Psalm 37:7 NIV
You hear it often; we are asked to pray continually but to also be still and give God a chance to speak. I try hard to obey, but I confess, I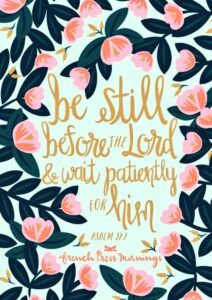 often have so much to tell Him that I leave little time for listening. Sometimes, however, He stops me mid-sentence with a message I can't ignore. That happened a couple of weeks ago when I heard the words, "listen for God" with a very crisp clarity. It's easy for me to forget words and ideas if I don't write them down but those words stayed imprinted in my mind and I had since chosen to address them in this week's writing. Then, as often happens, last Saturday night at Focus Worship, Pastor Phil chose that very topic for discussion. That can't be a coincidence. God really wants us to listen to what He has to say.
There are those among us who are gifted with the ability to clearly hear God's words and occasionally, as in this case, it happens to me, but I believe that most of us receive countless little messages every day and don't recognize them as words from God. I suggest that He doesn't necessarily speak in the midst of our prayers as we wait, but often He speaks in the everyday busyness of life, perhaps when we least expect to hear from Him.
There was a time in my husband's life when he was given a persistent nudge to walk across a square dance floor and speak to a very sad looking man. When he went to the man and learned of his troubles, Ken asked if the man had talked to Jesus about them. After their conversation, each man went his own way, but a few months later, they chanced to meet again, and the man told Ken that he had planned to take his own life that very night when they had talked. Instead, he turned to God and everything in his life had turned around and he was filled with hope
for the future.
Not every story is so dramatic, and we often don't know what happens when we follow God's nudges. Sometimes we aren't even aware that we've been nudged toward another person for any specific reason. Things just happen during our everyday tasks that impact others. I recall a day when I was waiting at a pharmacy to ask a question and another lady was waiting alongside me. This lady was clearly stressed and so I began a casual conversation just to relieve her mind of whatever was troubling her. She then began to tell me that she was caring for her husband who was very ill and was anxious to get back to him. Mercifully, the pharmacist brought her prescriptions quickly and she turned to leave. I told her that I hoped her husband would be better soon. She said that wouldn't be happening. My response was simply, "then I wish you peace". She said her thanks and for the briefest of moments a fleeting smile crossed her face, and I knew that she had been touched by the hand of God through my words. But those words were not mine, they were His. I was just the instrument He chose to deliver them. This long-ago incident was but a moment in my personal history, yet it imprinted my heart with a profound message that altered an important perspective of my spiritual life and, ever so slowly, has brought a change in my approach to prayer. I've never forgotten that someone found a moment of peace because I had followed a nudge from God, and by accident or His design, I began to understand the implications of keeping my heart open to hearing His still, small voice.
I like to think of His words to me as gentle nudges, little reminders that I am His and I need to help Him take care of His people. Sometimes I'm busy with something else and don't want to take the time to do as I'm asked. And then the nudge becomes a little more obvious. Sometimes I'm really hard of hearing and he has to hit me with the proverbial 2 x 4 to get my attention! I want to believe that my listening skills are becoming more acute, but I still have many moments of selective deafness.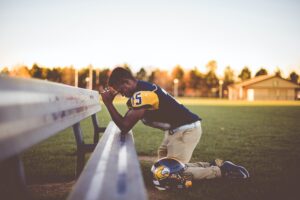 We all need to set aside dedicated times of prayer and those should never be taken for granted. But if we hone our listening skills, there are so many ways to care for others even now with COVID-19 in our midst. When you hear a siren, take a moment to ask God to wrap His arms around whoever may be impacted at that moment. When a neighbor calls and you can hear the loneliness in the voice, take a few moments from your busy day to offer friendship. On your daily walk, if you encounter a stranger who looks to be at loose ends, offer a sunny smile and a few kind words before moving on. It can be done from a safe distance. When your child questions something that is happening in the world, take time to provide the best explanation you can, and put that child's concerns to rest. And when your spouse has a bad day and you feel you just don't have the patience to listen to any more opinions, take a deep breath, and just listen. I truly believe that God is speaking to us in all of these situations and so many more. Our days are filled with tiny, yet significant conversations with Him and each of these is a prayer. After all, isn't prayer defined as a conversation with God. So yes, we can pray continually, whether or not we recognize our conversations or His nudges as prayer.
How many times do I unwittingly turn out to be someone's answer to prayer? How often do you?
Thank you, Lord, for the part I can play in the unfolding of Your plan.
Rick Hamlin, Daily Guideposts 2020
PS: As this writing ended, I opened a weekly inspiration email from Guideposts and was greeted with the title, "He responded to a Nudge from God". The article told of an architect who went into a closed business in preparation to renovate for a new client. The former business was a bankrupt photo studio left as it had been on its last day of activity. Family photos lay everywhere, some with information about the clients and some without. The architect gathered his family and gained permission to take the photos in an attempt to reunite them with their subjects. As of the writing, they had been able to return 60 of 105 portraits and heard some very touching stories along the way. COVID slowed them down but they didn't quit. They just had to alter their methods a bit to maintain safety. If you'd like to read the story, go to www.guideposts.org/bononi and click on "they matched abandoned photos".
Nudges can happen anytime and to anyone…just open your heart.