By: Marcy Barthelette
If you don't like something change it, if you can't change it, change the way you think about it. Mary Engelbreit
If you joined me last week, you know I had an accident just before Thanksgiving, 2019 that left me down for the count just as the biggest holiday season of the year was arriving. By week two, I was starting to feel as if I might survive. One small, yet important miracle was that I hadn't coughed or sneezed since the accident and I can't express how grateful I was. That kind of jolt to an injured chest can send a person back to square one. Other than a follow-up visit with my doctor, I hadn't been out of the house or around people since the accident. I didn't want to expose myself to the seasonal bugs that might delay my healing and create a lot of pain. That seems a bit petty to me now as I have had a first-hand look at the effect of isolation caused by a pandemic.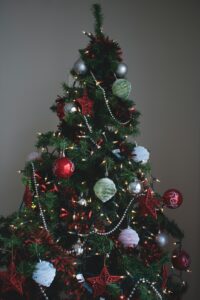 By then our home was decorated for Christmas, at least as much as I had felt able to accomplish and I was starting to realize that I really didn't need so many shiny things to enjoy the holidays. What I really needed was the peace of the season and that could only be achieved by placing all my fears in God's hands.
Taste and see that the Lord is good; blessed is the one who takes refuge in him. Psalms 34:8
I spent a lot of time in my loaner recliner. Ken had been kind enough to let me use his power chair and I believe it was there that I received an email from our youngest daughter with their holiday schedule. This was an unusual occurrence as we typically scramble at the last minute trying to decide when and where we will gather to celebrate. Our two daughters who live in Missouri have very active lives. Between work schedules and kid's activities, it's very hard to get everyone together. Our son only comes from Texas with his family every few years (his kids are busy too) and our daughter in sunny Florida can't be pried away from there. Add to that, our family is a blended one, so all the kids have multiple places to visit and no one lives close by.
I quickly passed Jeni's schedule on to Kim and she responded almost immediately that the weekend before Christmas worked perfectly for them. Wow, that was easy, and Ken said we should contact Joe as well. I did and a day later his text came back saying, "We're in!". I couldn't believe it. We were three weeks away from Christmas and we had a plan that included three of the kids, their spouses, and five of our precious grandchildren. It was a miracle of sorts! Then reality returned and my elation was short-lived as I realized I wouldn't be able to do all the things my family normally expects to be a part of Christmas tradition. But Ken assured me he would help in any way possible and then the girls began asking what they could do. I wasn't in this alone. I had a small army of workers to help keep this celebration on track.
My grace is sufficient in you, for my power is made perfect in weakness. II Corinthians 12:9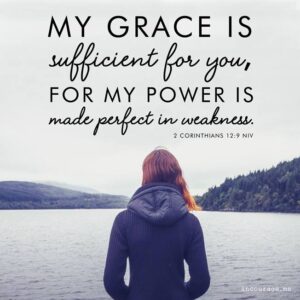 From the comfort of my recliner, I planned a delicious brunch centered around Ken's family tradition of "doughboys". It's a very simple concoction of rolled out bread dough fried in hot oil and then topped with butter, powdered sugar, brown sugar, syrup, or any combination of the aforementioned ingredients. I decided that a make-ahead egg casserole would ease our burden on the big morning. We'd add lots of fruit choices, our family can pack away the fresh fruit! Some cheese dip and chips along with more fruit and summer sausage would provide snacks during the day. When it came time for another meal, we'd head out for pizza. Our plan was set, everyone knew what to bring and I could just sit back and relax. I knew it would become hectic at the last minute but for a while, I could just relish the peace that should always come with the season.
Come with me by yourselves to a quiet place and get some rest. Mark 6:31b
I read my collection of Christmas books, immersed myself in Advent devotionals, and watched all my favorite holiday movies. I was careful to get my prescribed amount of exercise but also the precious rest that I needed. I enjoyed a warm cozy fire alongside our beautiful tree and allowed my sweet husband to wait on me as much as he wanted. And I realized that I was experiencing Christmas as it should be, unhurried and filled with peace.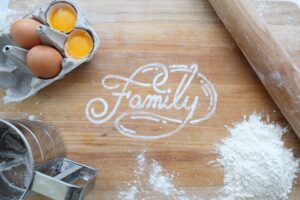 Though celebrating with family and friends has become synonymous with Christmas, and decorations, along with gifts, become our focus during our holiday season, God wants us to remember the most precious gift of all. Jesus left the comfort of Heaven and came to dwell with us, to share everyday life on earth as a human. He entered the world by way of an obscure young girl's womb. He slept in a feed trough meant for animals. He and His parents were just ordinary travelers in a strange land where no one really took the time to care that a miraculous birth was about to occur. But the shepherds knew that something special was afoot and Wise Men began a journey to witness the miracle.
Will we see Him as a miracle, or will it be just another festive holiday?
Next week…Part Three, The Fulfillment of Joy