By Marcy Barthelette
For most of my adult life, I have dreamt of acquiring a vintage home, one that has good bones and nice exterior lines. I'd love a center chimney or multiple fireplaces and a few well-placed built-ins. Some stained glass would be a lovely bonus. Now, don't misunderstand, I don't want it to be in pristine condition. The fun is in the fixing. I want it to be sound but far from perfect because you see, I've always loved a good project.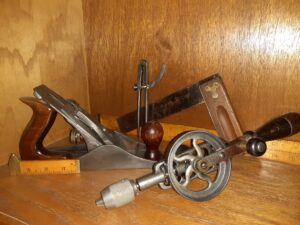 My dream home has never come to be and we're getting a little advanced in age to take on a huge endeavor so, over the years, I've settled for refurbishing and repurposing smaller items. As a matter of fact, Ken also loves to bring old things back to life. He has a collection of old tools that would make any handy guy envious.
My love of old things began when I was too young and short on money to buy new so my trips to flea markets, secondhand furniture stores, and just plain junk stores were frequent. I'd drag home an old chest of drawers or rugged-looking table and my family looked on in disbelief. There was no way I could turn that piece of junk into something useful. A few cans of paint or varnish stripper, some sandpaper, and steel wool, then a coat of new paint or stain, if the wood was good enough, and I had a new treasure for my home. And my family soon learned that I was pretty good at turning the proverbial saying, you can't make a silk purse out of a sow's ear, into an unexpected reality.
Ken and I have a few pieces that came to us through family and others that we have collected along our life's journey, but we can't wait to get back into the flea markets (Post COVID) in search of new little treasures. Some of his prettiest tools have found their way onto shelves and tables in our home and I am constantly in search of old ceramic pieces. Our home is an eclectic assembly of old and new, somehow all blending seamlessly together to form a cozy nest.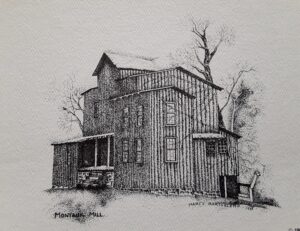 I suppose in many ways I can claim to be a vintage piece that has been repurposed more than once. As a young teen, I was sure my future lay in art. I didn't know at my tender age how that would look but I knew it was the direction I wanted to aim for. As often happens life took over, I married young and found myself with a family. There wasn't time or money for the college life I had thought would be mine.
A turn in the road of life took me to a new challenge, one in camping resort management. While there, I found myself dipping into the art world by designing T-shirts and advertising brochures. My writing skills also began to develop in the form of short historical essays about places in the Ozarks and these were printed in small local publications.
And then one day, when the kids were older, I wandered through the campus store at Missouri S & T, though it was known by a different name then. I discovered some great looking technical pens, and a dream began to form. I bought several and acquired some excellent books detailing the nuances of drawing in pen and ink. Before long I was creating drawings of historic building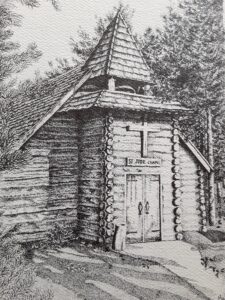 s that Ken and I had visited, old gristmills, vintage homes, our state capitol, and surrounding campus. My technique was stipple and that means that the drawing is constructed completely of dots, more coverage for shaded areas and less for open spaces. My works were very time consuming but very rewarding. I sold them in gift shops and to historic sites in Missouri and I was honored with a showing at the Museum of Art in the Missouri State Capitol complex.
And then it all came crumbling down. I began to lose vision in one eye and could no longer do the detailed work required to complete even a small simple drawing, let alone the complexity I'd accomplished before. Three surgeries and a long healing period later, I began searching for a new direction. I never said repurposing was easy, there's always a lot of work involved.
My attention turned to making cloth dolls that gained the attention of Silver Dollar City. I was able to sell quite a few and keep my creative juices flowing but keeping up with their demand by myself was difficult so I searched once more for meaningful work. Photography kept me busy for a while but never became a vocation.
After moving out of state for a while, we came home to Missouri and finally settled in Clever. It was there that I began writing. Our little church didn't have a newsletter, so I started one. We were also looking at adding a contemporary service on Sunday mornings, so I accepted the job of creating our weekly order of worship and announcement sheet. A few years later, we made another move to a new church in Nixa called Aldersgate and when I asked how I could help the office staff, they put me to work making announcement slides for the big screens. Before long, Pastor Sarah began work on a new newsletter format and asked me to join the group working to make it a reality. Then last year, COVID paid a visit and so many things went virtual. Once again, it was a painful transition to isolation. When Casey asked me to write an occasional article for the new E-blast Gatepost, I thought, "Okay, I'll give it a shot". That was April and Casey said she would take whatever I could write for her. Aldersgate is still going strong, reaching people both virtually and in-person and it's been a rewarding journey.
Seeing God in your tomorrow is the key to having confidence and courage in your today. Tony Dungy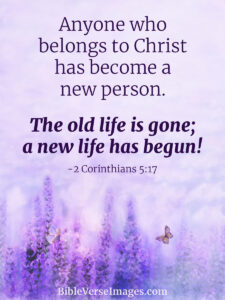 I didn't intend this to become a narrative about myself but rather to illustrate how one simple life can be transformed so many times and in so many ways throughout its journey. Sure, God closed doors in my life just as he has in yours, but he always opened another. When we choose to walk through those new doors, wonderful opportunities can be waiting just on the other side. The same happens when we choose to follow Jesus. He will repurpose us in His will. We don't know what lies ahead, but God does. We only need to awaken ourselves to His possibilities.
So then, if anyone is in Christ. That person is part of the new creation. The old things have gone away, and look, new things have arrived.
When the old year dies and the new one comes bounding in, I will draw strength from knowing that in the next twelve months the snows will go, the buds will burst, the heat will rise, the leaves will fly, that all these things will happen according to Your schedule and in Your time; that there is the order in Your universe and I am part of it. Van Varner, former Guideposts Editor-in-Chief