By Marcy Barthelette
Whatever is good and perfect is a gift coming down to us from God our Father …
James 1:17 NLT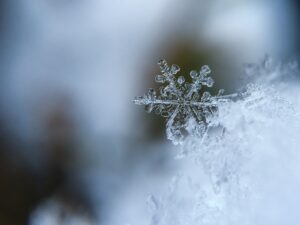 Good old Missouri has done it again. She transitioned from summer-like days near eighty degrees to heavy morning frost and daytime highs in the thirties or forties and she did it in a matter of twenty-four hours. I haven't lived in many places outside Missouri, only a few years in Florida where temperatures are fairly consistent, so I've often wondered if other parts of the world make seasonal changes as rapidly as Missouri does. Quite honestly, I enjoy the seasons, except for the cold of winter. I'm sure aging joints and creaking bones have something to do with that. And new-fallen snow is lovely but I can do without the icy trees that down power lines and make the road surfaces treacherous. But lots of folks love winter and are anxious to see those first flurries float to the ground. Those are the days when I like to curl up in front of a nice fire with a good book in hand…. well, on my Kindle app.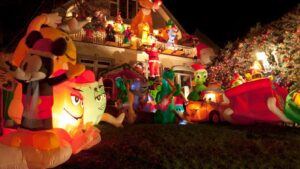 It didn't even take cold weather for all the yard ornaments to start popping up. We had goblins and witches and spiders on the day after Labor Day! They disappeared on November first and out came the so-called Christmas decorations, inflatable versions of snowmen, Santa, reindeer, and, of course, grinches. Is it just me or is our society pushing the envelope with regard to Christmas decorations and advertising? Suddenly we have a whole Black Friday Month with 'Killer" deals every morning from every retailer who has our email address or phone number. And last week when I shopped at Walmart, they played Christmas music on a continuous loop, most of it designed to encourage kids to make their wish list early. Do kids really need encouragement in that regard?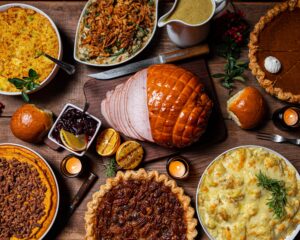 Has anyone ever heard of Thanksgiving? You know, that day in late November when we gather 'round the table laden with roasted turkey and all the trimmings, an astounding array of decadent desserts, and an interesting assortment of family and friends? And all during this amazing social event, multiple TVs are blasting football games at a level that allows all interested parties to hear from the dining room. And let's not forget kids on a sugar high bouncing off the walls. It seems that by the time we've gorged ourselves on empty calories, napped despite the blaring TVs and calmed the squealing kids, it's time to say goodbye and we're not even sure why we gathered.
Thanks be to God for his inexpressible gift! II Corinthians 9:15 ESV
Maybe your Thanksgiving Day doesn't resemble the one I have portrayed and I'm not suggesting that we shouldn't enjoy time spent with those we love. Jesus enjoyed a good party or dining with friends. His example teaches us to find joy in those around us but, in the midst of all the chaos, each of us should spend some time recalling the blessings we enjoy, the things we need to be thankful for. Gratitude blesses us and those around us in so many ways. The truth is, everything we have is on loan from God. It's all His and He chooses to share it with us. We can never show our gratitude enough, but we can certainly make a good, honest attempt, not just on Thanksgiving but every day. He wants to hear it from you….the simple words, Thank You!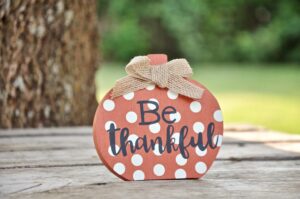 Let the peace of Christ rule in your hearts, since as members of one body you were called to peace.
And be thankful. Colossians 3:15 NIV
**This Sunday begins the season of Advent, the time when Christians everywhere contemplate age-old questions about the birth of Jesus. Why did He leave His seat by the Father to come to an earth filled with danger and chaos? Why was He birthed in a stable, a place where dirty animals ate and slept? Why were lowly shepherds the first to hear the news? Why was a mighty king already plotting to kill Him? What was His mission here on earth? Join in the journey to the manger and learn the answers or immerse yourself in the recalling of answers already learned. We will have questions until the day we see heaven and that's the gift Jesus came to share with us…eternity in heaven!
Now that's something to be truly THANKFUL for!