By Marcy Barthelette
For there is hope for a tree, (or a bush) if it is cut down, that it will sprout again, And that its
tender shoots will not cease. Job 14:7
We have an azalea bush that we believe to have been original to our 1993 home. When we moved here, it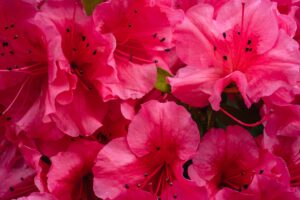 was looking a bit worn. It had no shape, and its foliage was sparse. I wondered if it was really worth saving. Should I just count my losses and ask Ken to drag out his Ozark digging tools?
My experience with the species was limited so I did a little online research and concluded that a twenty-something-year-old shabby azalea could actually be worth some effort on my part. A spring bloomer, it had to be pruned after it flowered so, in late May, I grabbed my pruners and set out to make this sad-looking bush a bit more shapely. I decided on a cautious course of action and removed only dead branches and the most unruly live ones.
Next spring, our azalea had a somewhat better overall appearance and bloomed profusely, but I had since become more daring and when blooming finished, I once again took my pruners to the branches. This time, however, I gave it a severe haircut and hoped that I had not gone too far. It began to sprout new leaves and soon was a fine, healthy-looking specimen. It was a long wait to see if it bloomed well, but my efforts were rewarded. We have enjoyed that azalea every spring since, that is, until this year.
As you undoubtedly know, our winter and even spring have been very challenging to plant growth. They've experienced extreme cold, late freezes, an abundance of moisture, and too little sun. Most of my perennials are taking it in stride but there are a few areas of concern. That beautiful azalea tops the list. When buds should have been sprouting, nothing happened. The bush appeared to be dead, but we waited (sort of patiently), and eventually, leaves began to appear at the branch tips. Then one day, I found the tiniest of leaf buds erupting among the seemingly dead wood. They are very slowly growing into foliage and, hopefully, by the end of summer, we'll have a healthy-looking azalea once again.
Whatever goal you are trying to reach, break it down to the details and focus on them one at a time.
Don't get sloppy and overlook the little aspects of life, because they add up to big things.
Tony Dungy & Nathan Whitaker, The One Year Uncommon Life Daily Challenge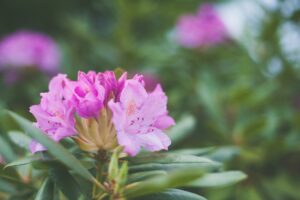 The best part of this little tale is that one day I glanced out the window and caught a glimpse of pink buried in that azalea. I looked more closely to be sure my old eyes hadn't failed me and then I raced out with my phone to catch an image of one perfect bloom, nearly hidden by leaves.
I know it may sound silly to get so excited about one insignificant bloom, but here's the thing … I had worked hard to save that bush because it was special to me. How much more do you think God celebrates when one of His beautiful creations says to Him, "Okay, God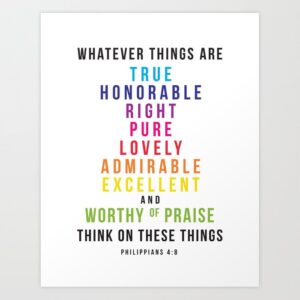 , I get it! You are the light in my life and everything I have comes from you, especially forgiveness. I know that you gave your own son for me, and I want to try my very best to live the rest of my life for you." Can't you just imagine all the angels in heaven throwing the biggest welcome home party for that one imperfect person who finally discovered that he or she is a child of God? Any person or a
ny thing that seems shabby and worn one moment can blossom into something magnificent when God is in the mix!
Finally, brethren, whatever things are true, whatever things are noble, whatever things are just, whatever things are pure, whatever things are lovely, whatever things are of good report, if there is any virtue
and if there is anything praiseworthy—meditate on these things. — Philippians 4: 8 (NKJV)
Be aware of the goodness in those around you and cultivate the beauty in them.