By: Marcy Barthelette
Be glad, o people of Zion, rejoice in the Lord your God, for he has given you the autumn rains in righteousness; the threshing floors will be filled with grain; the vats will overflow with new wine and oil. Joel 2:23-24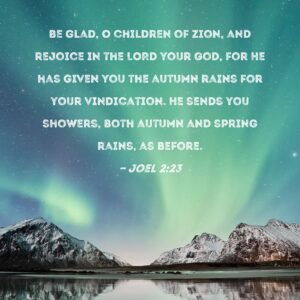 A few nights ago, I savored the sweet, gooey delight of cinnamon apples for dinner and I finally gave in to the reality of fall. I know, I know…everyone eagerly anticipates the cooler temperatures that follow a hot summer, and the autumn color palette is truly a wonder to behold. Like all of you, I think fall is refreshingly beautiful. I also know what comes next and I'm not very good at accepting winter's chilly blast. Yes, the snow is lovely when it's freshly fallen and yes, I am content to curl up with a good book in front of a cozy fire. And, of course, I know the trees and plants must rest before their new growing season begins. And yet, if fall continued until spring, I would be very content. But the calendar rolls on, as does God's perfect plan for our earth, with a certainty of purpose and so must I.
It's time for me to open my heart to all the blessings of autumn in the Ozarks and embrace it with reckless abandon. After all, it is the season of pumpkin pie…warm from the oven with a generous topping of whipped cream….mmmm, good. A long walk through the woods with leaves crackling beneath my feet makes me feel like a kid again. The trees are nearly barren of leaves now and their stark skeletons stand magnificently against an azure sky. Streams trickle lazily over a rocky earth, forgetful of their fullness from just a few months past. An occasional brightly hued flower hangs on by a thread, but soon will release itself back to the earth. Such beauty to behold!
Animals are busily gathering food and building their winter quarters, nearly ready to snuggle in, safe from the cold and snow. Farmers have gathered the fruits of their fields. Neighborhood gardens are yielding the last of their bounty. It is the season of harvest, of gathering in. How thankful I am for the comforting cycle of life.
Just as I feel the impending cold close on my heels, our lives sometimes feel as if winter is closing in on us and we fear the cold will never end. We question where God is when the roadways of our daily lives seem impossible to navigate. We may wonder if He's even listening to us or begin to doubt that He's there at all. These are the days when we need to search for every scrap of evidence that He is, most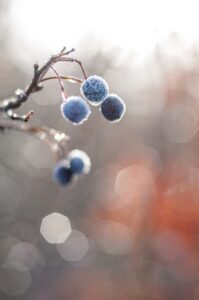 assuredly, there and He hears every word we breathe, no matter how silently. It's the time to dig deeply into His Word and gather a bountiful harvest of comfort, peace, and hope. All we need to do is open our hearts. When we feel disconnected from God, it is not He who has turned away or become lost. It is we who have strayed, just like lost sheep. It's our choice to believe or not. It's our choice whether to reach out to touch Him or not. His hand is always reaching out to us and hoping.
When you experience trouble, you have two options. You can let doubt, fear, and worry overtake you, or you can call upon the Lord. God has promised that if you call upon Him, He will deliver you. The deliverance may not look exactly like you expect, but you can be one hundred percent sure He will help you. Loveworthfinding.org
It's another week until Thanksgiving, but certainly not too early to begin an inventory of blessings to be thankful for, even more so if life is looking drab and void of color or you're feeling lost and having doubts. Thankfulness is contagious! For this next week, try saying "thank you" for any favor from any person with whom you may come into contact. It may not be something that happens at that moment but a position of service they hold that positively affects the lives of others or an act of kindness from the past that you may have overlooked. Just take a moment to express your thankfulness. Then be ready for the blessings that will find their way back to you. May all the blessings that you gather find an open and thankful heart.
The autumn rains of his righteousness are abundantly available for me to glory in when life is drab. God Moments, A Year in the Word
Autumn is the time of gathering summer's bounty by all of God's creatures. One day, we don't know when Jesus will come to gather us in and that will be the loveliest and greatest gathering of all. I want to be ready, don't you?