By: Marcy Barthelette
I have all that I need. Psalm 23:1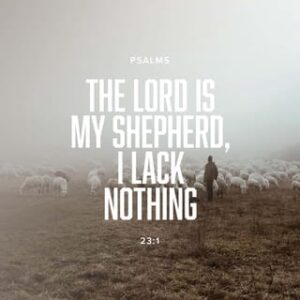 "What is that noise?" I asked aloud while working in the backyard. "It sounded like a lamb or a goat." But Ken and I both dismissed the incident as just a misunderstood sound; a child or a trick of the wind. We did, that is until we saw our neighbor walking around his yard with a little lamb tagging along behind.
The young couple next door moved in about two and a half years ago after living out of state for a while in the cramped quarters of a camper. Their three-bedroom home seemed gigantic to them even with a toddler and two good-sized dogs sharing it. They're dipping their fingers into a number of pies to find the right fit for them and one of the things they're focused on is raising sheep. No, no! Not in their backyard. They are leasing several properties around the area, along with other family members, that serve as pasture for their flock. Apparently, sheep farming has been a family staple for some time and they're anxious to get back to their roots. They'll soon be moving to an acreage that will allow them to share property with their animals and will be much easier to manage.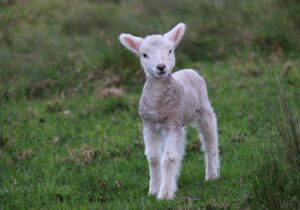 But this past summer, they were temporary parents to a little lamb whose mama couldn't care for her. And that little lamb took this human parenting thing very seriously after sharing the house for a while. You've undoubtedly heard that Mary had a little lamb with snowy white fleece that followed her everywhere. Well, our little lady was not white but she certainly was a follower. Our neighbor quickly became her parent and the house a little more crowded. You know what they say, feed an animal and it becomes yours. This was immediate with our little lamb friend. Wherever he went, she went. When he came to our house to visit, lambie came too. I have to say she was really cute. But she was underfoot all the time. Often he carried her just to avoid stepping on her. And, of course, they thought it would only last a few days, but her time as a house pet lasted longer than anyone expected, and her bleating became much louder. Finally, after a number of weeks, she was able to be assimilated back into the flock.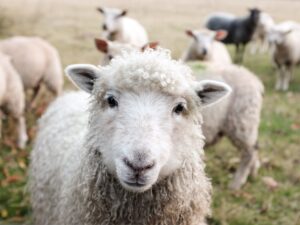 For me, I think she brought more clearly into focus the image of Christians as sheep and Jesus as the Shepherd. The lambs and sheep are totally dependent on the shepherd to keep them from becoming dinner for a hungry wolf. He also must herd them from pasture to pasture in search of green grass to eat and see to it they have water to drink. Without him, they would wander aimlessly and be prime targets.
I am the good shepherd. The good shepherd sacrifices his life for the sheep. A hired hand will run when he sees a wolf coming….and so the wolf attacks them and scatters the flock. John 10:11-12
We, too, are targets. The world is definitely out to get us one way or another. It will tempt us with glitter and the promise of living in the lap of luxury. It will tease us with the lure of money, fame, drugs….you name it. The world has lots of tricks for worming its way into our minds and hearts.
As the sheep depend on the shepherd, we also must strive to follow our Shepherd. We must keep our eyes, our ears, our hearts, and our minds on Jesus and allow him to guide us around dangerous pitfalls, to be our constant companion on the journeys of life, and to provide nourishment, both physical and spiritual.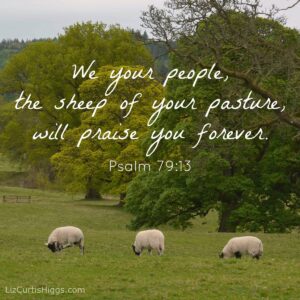 I am the good shepherd; I know my own sheep, and they know me, just as my Father knows me and I know the Father. John 10:14-15
That little lamb next door learned quickly that her two-legged adopted "Mama" was her source of nourishment. Are we as quick to learn who provides ours? Well, I don't know about you, but I often need to be reined in from some detour I have chosen that doesn't fit into God's plan for my life. Thank goodness, no thank God, we have a good, good Shepherd who never gives up on us, one who lifts us up, dusts us off, and gives us a brand new start.
Then we your people, the sheep of your pasture, will thank you forever and ever. Psalm 79:13