By Marcy Barthelette
So heap on the logs and kindle the fire, cook the meat well, mixing in the spices…..Ezekiel 24:10a
The arrival of September and our mini cool down resulting from much-needed rain have conspired to send my thoughts wafting toward more time in the kitchen making old favorites and perhaps giving some new recipes a try. Our doctor keeps trying to nudge us toward healthier eating habits and we're making some progress, but we still believe his way is a little over the top for us. While we limit our fat intake and look toward less bad carbs, we're not on the vegan train, nor do I expect we'll ever be ready to totally eliminate animal products from our diet. That being said, I am always searching for some healthier ways to sustain us in our day-to-day diet so we can splurge sometimes on special treats, especially at holiday gatherings and on camping trips and other getaways.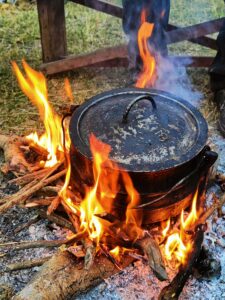 I think I've probably mentioned Dutch oven meals and desserts somewhere along the line. Several years ago when our daughter's family added a camper to their possessions, they wanted a Dutch oven but not a new one. They wanted one of the old ones that was well loved and well seasoned over years of providing for a family. So one day as we strolled through a flea market, we happened on the perfect Christmas gift. It was the correct size and just needed some sprucing up to make it an acceptable gift. After more cleaning than we thought it would need and lots of metal brushing, it was ready to wrap. I don't think I'd ever seen Jeni happier with a gift.
If you're not familiar with the Dutch oven, it's a cast iron pot large enough to prepare a full meal for a number of people. There are varying sizes for different families. It sits above the surface on the legs and has an indented lid for placing coals directly on top and directly underneath. In days of old, the coals were part of everyday life in the campfire or fireplace. Today, many Dutch oven bakers use charcoal and have determined just how many briquets are needed for a specific recipe. Our kids make breakfast casseroles, chili, and magnificent fruit cobblers that make me salivate just sitting here thinking about them. Obviously, Dutch oven cooking is not an exact science, but everything cooked over a campfire always tastes better just for the experience.
And, of course, things can go wrong in any cooking adventure. I recall a time in a beautiful campground in the Smoky Mountains when a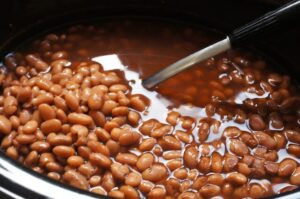 pot of ham and beans tantalized our taste buds all day long. It was fall and a little cool. Ken was trout fishing in the stream beside our campsite and I was just enjoying being in God's lovely outdoors. I wasn't cooking over the fire. I used a modern crockpot so no tending was necessary but the flavorful smells drifting from that pot certainly worked up an appetite. We sat down to dinner in great anticipation. The first bite was not exactly what we had expected, so we tried another and looked at each other in total disgust. You see, I was accustomed to making a large pot of beans at home and this was a mini pot. I'm not a measurer when it comes to making savory dishes. It's just a pinch of this and a tad of that. Well, I had tipped the salt shaker a "TAD" too much and those beans were inedible. I don't recall what we did finally eat that evening, only what we did not eat.
It's important to get our cooking recipes right. Sure, we can fudge a little here and there, especially after many years of experience in the kitchen, but as witnessed, even experienced cooks can make mistakes. That's why knowledge of how to use ingredients is important and, if you're just getting started in the kitchen, following a good recipe is a must. The same can be said about life. If we wander through it with no focus and just throw in whatever ingredients make themselves available, the result can be disastrous, just like my ham and beans.
We need a really good guidebook and that would be the Bible, choose the translation that suits us best.
We need to realize the importance of family, however, that may look, and do our part to make it whole.
We need a loving church home and friends who will provide support in troubled times.
We need to offer help and comfort to those who can't help themselves.
We need to recognize our own need for a Savior and acknowledge the one and only God.
Do not labor for the food that perishes, but for the food that endures to eternal life….John 6:27a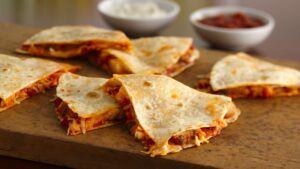 Just one more quick tale of pre-teen woe and a change of plans. If you've had any experience with eleven-year-old girls who see themselves as grown up but haven't yet grown the thick hide that allows them to accept sudden change as a way of life, then you know a lot about our youngest grandchild. She loves working in the kitchen. Her other Grandma has kept her at her side cooking since she was a tiny tyke. I'm not quite that brave, although she's always had her own chores in my kitchen as well. On a recent campout, she was going to make her latest favorite recipe, chicken quesadillas, in their camper's outdoor kitchen. Her version is to grill the tortillas sans oil and even chicken, just adding cheese. I realize many restaurants serve these very basic quesadillas as an appetizer, but these were our entrée. I'm not sure how she thought they could be chicken quesadillas without chicken. Maybe she just skipped over that part of the conversation. At our house, the ordinary quesadilla becomes a feast. I add grilled peppers and tomatoes to the seasoned chicken and cheese inside the tortilla. Then we have lettuce, sour cream, and sauces to add along with ripe olives and avocado or guacamole, as you prefer. There you have it, a feast fit for a king! She was having none of that. Whoever heard of putting such things on a quesadilla? So, only the chicken and cheese went inside, and she did agree to the chicken. The rest, absent the grilled peppers because they don't like them, was served as toppings. And you know what, she loved it! Change can sometimes be a wonderful thing as long as we don't get completely off course.
Start from scratch with Jesus every day and then be careful about what you add to your life. Bob Goff