By: Marcy Barthelette
Let your conversation be always full of grace, seasoned with salt….Colossians 4:6a
A couple of cool days and I'm already into comfort food. Last weekend found the spicy scent of chili simmering in the crockpot for the first time of this fall season. Chili pepper, tomatoes, bell peppers, garlic, onion, celery seed, brown sugar, and red wine all intermingle to give plain old ground beef and pinto beans an amazing zing. Add a few corn chips or crackers to the bowl or cup, along with grated Colby/Jack cheese, and we've created a culinary masterpiece to warm our bellies when the temperature drops.
Cooking is love made visible. Anonymous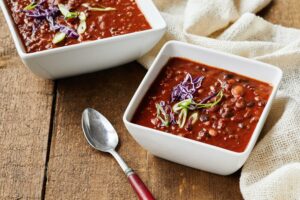 What is it about chili, mac-n-cheese, soups, chowders, or chicken and dumplings that make our taste buds come alive? First, it's the smells that tantalize our nostrils. Next, the texture and warmth on our tongues remind us of past experiences. And then the flavors all come together and send our brains into heavenly overload. It's all about comfort and replicating the tastes we remember that were prepared with love.
What's the first thing you smell when you step through the door for Thanksgiving dinner….turkey and stuffing, right? And it's all about the sage. There'll be an abundance of scents and tastes to indulge your fantasies, but the sage will be the star of the show.
On Christmas baking day, cinnamon and nutmeg take center stage along with the sweetness of vanilla chocolate and molasses. Our noses are the first harbingers of the goodness to come but the proof is in the seasoning. We don't want cookies that reek of sage and we probably wouldn't appreciate cinnamon or vanilla turning up in our chicken and dumplings. The right seasoning in the proper amount makes all our comfort foods go down very easily. And the key to good seasoning is its freshness.
The house of Israel named it manna, and it was like coriander seed, white, and its taste was like wafers with honey. Exodus 16:31
This love affair that we humans have with food has existed since time began. Recipes have been passed from generation to generation. Food has a culture and a rich history all its own. When the Israelites were wandering in the desert, food was always on their minds. Wedding celebrations centered on an abundance of food and wine. And guess what…they still do. Kings and their courts feasted while peasants often wondered where they would find their next meal. Food has always been front and center.
Food brings people together on many different levels. It's nourishment of the soul and body; it's truly love.
Giada De Laurentiis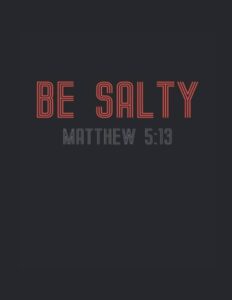 We pay lots of attention to adding all the right seasonings to make our recipes taste just the way we expect, but do we give as much time to checking our recipe for life? Do we add enough love when interacting with family members? Do we sprinkle a little spice into our relationships for extra interest? Is there an adequate measure of humility shown toward others? Is generosity on our radar? And what about forgiveness? All of these, and many other attributes, are life seasonings that make us who we are and, just like the seasonings we cook with, if they become stale, we become ineffective in carrying out our mission. Check the seasonings of your life and be sure they still have a good "best if used by" date.
You are the salt of the earth. But what good is salt if it has lost its flavor? Matthew 5:13a