By: Marcy Barthelette
Why Did Jesus Come?
It's a question scholars have debated for a couple of millennia and will no doubt continue to discuss until His return. Christians believe that He came to deliver all of God's followers from the pain of sin. That His death on the cross removed the burden of sin from any human who confesses to sin and asks for forgiveness. It seems simple enough and yet an enormous percentage of the world's population doesn't accept the gift that is offered by His sacrifice.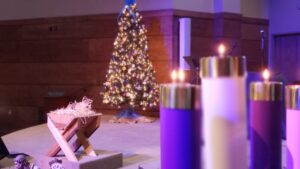 Though God created a bright and beautiful world just for us, many choose to hide in dark corners and under shadows in order to live a lifestyle of their choosing. And the interesting part of the equation is that God gave us free will, the ability to choose for ourselves. Why then, is it, that so many choose darkness over light? That's a tough question for me because I relish light and sunshine, bright colors, and blue skies. To live in a world of darkness would prove very difficult for me, whether physically or mentally. That's not to say that I or any Christian make nothing but pure choices. We all have our flaws, but the difference is that we can go to our heavenly Father and sincerely ask forgiveness with every intention of doing better, and He will offer it.
Last Sunday marked the beginning of our Advent season. What does this really mean?
Something that Ken and I have noticed in the past few years is that everyone is offering advent products for sale and the products usually have no connection to the preparations being made for the birth of Baby Jesus. Many of them distract children with a countdown to Santa's miraculous sleigh ride. Others apply to product names. We saw a case of Advent wine. Maybe they count the days to the office Christmas party. Take a look at Amazon and you'll find everything from dinosaurs to Guardians of the Galaxy to National Geographic scientific calendars. Let's not forget chocolate and Harry Potter. Wow! What a dazzling array of glitz yet the Advent we celebrate leads to a dark stable, lit only by a bright star.
Let's take a look at the word advent.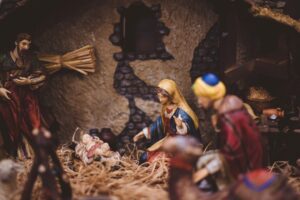 Dictionary.com defines it as a coming into place, view, or being and usually referring to the coming of Christ into the world.
Merriam-Webster says it is the period beginning four Sundays before Christmas and observed by some Christians as a season of prayer and fasting. When not capitalized it is a coming into being or use such as the advent of spring (beginning).
Cambridge Dictionary calls it the fact of an event happening, an invention being made, or a person arriving. This would be the uncapitalized version. Secondly, it is referred to as the period of four weeks before Christmas, with no mention of Christ other than its inclusion in the word Christmas, and advent is also still uncapitalized.
And one more, Britannica calls it the time when something begins or arrives and when applied to the Christian religion, it is the period of time beginning four Sundays before Christmas.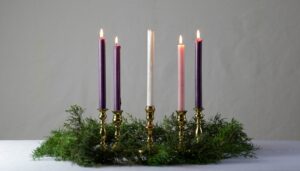 All the sources agree it is a time of waiting for something special. I think an Immaculate Conception culminating in a common animal stall under the light of a star would certainly qualify as special. In reality, it is a signal to the world that the Light has arrived, and all who diligently seek it will find it. How will our kids ever know the real story if we don't tell them over and over again through the Advent calendar that we choose, the things we read and watch, the gifts we share with those in need of a helping hand, the ways in which we treat everyone around us. Please take time each Sunday (and every day) of this Advent season to remember that Jesus came to love, to teach, to heal, and especially to save us.
Enjoy your celebrations with family and friends, relish the laughter and joy of children, and let the music and the message wrap you in a blanket of love. Be a giver of light and always remember that we only have Christmas because Christ came. Let's prepare ourselves to celebrate a miraculous yet beautifully humble birth!