By Marcy Barthelette
That night there were shepherds staying in the fields nearby, guarding their flocks of sheep. Luke 2:8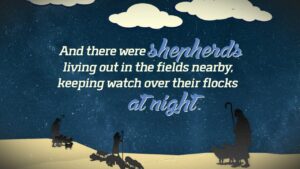 Did you get that? They were in the fields and what do shepherds do in the fields? They live and sleep and eat with sheep. How many of us have laid down at night in the midst of a flock of sheep who have been wandering and running all day long and never bathing? Those shepherd's nostrils were so filled with the smell of sheep that they didn't even notice the stench rising from their own bodies. These were the lowest of the low on the social platform of the day. As a matter of fact, they had no social life. They just tended sheep. They were often young and inexperienced in anything but sheep. Uneducated, often illiterate, you get the picture.
And here they were, out in the field, away from all civilization just watching over their flock, keeping predators at bay, perhaps some were laughing around a campfire while others slept. And what happened?
Suddenly an angel of the Lord appeared among them, and the radiance of the Lord's glory surrounded them. They were terrified….
Luke 2:9
How could they be anything but terrified? Here they were, young men with no life experience. Suddenly the brightest of lights appears seemingly from nowhere and angels fill the heavens with their radiant presence. And please note the word suddenly. There was no warning sign. It just descended upon them and completely enveloped them. Of course, they were terrified.
…but the angel reassured them. "Don't be afraid!" Luke 2:10a
What would it take to reassure you not to be afraid if you were suddenly surrounded by angels and a light so bright you were almost blinded by it? Let's just say you're on a little camping trip sitting around a beautiful campfire and enjoying a cup of hot chocolate. Someone is strumming a guitar while others softly sing. It seems an idyllic evening and here comes a host of angels, not one, but a heavenly host bathed in light. And I wonder when the angel spoke, would we be reassured or more frightened, or are we just so jaded that we would scoff at such a miracle?
"I bring you good news that will bring great joy to all people." Luke 2:10b
Whatever our modern-day reaction might be, the shepherds had their own take on things. They became excited. What kind of good news could these messengers have to share with the lowliest of servants that it should be delivered in such splendor? What did they do to deserve such fanfare? And how will this news affect them?
"The Savior—yes, the Messiah, the Lord—has been born today in Bethlehem, the city of David. And you will recognize him by this sign: You will find a baby wrapped snugly in strips of cloth, lying in a manger." Luke 2:11-12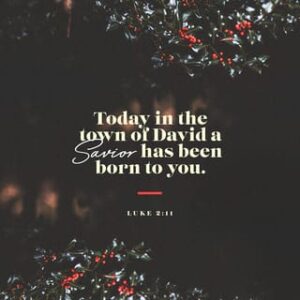 We know the rest of the story. The shepherds talked among themselves and quickly determined that they must go in search of this baby. Whoever he was, he was certainly of great importance and they did not want to miss such an opportunity. And so they came to be the first to lay eyes on a baby boy named Jesus and they recognized him as the one who could give them life and hope.
Why were these filthy, unwashed, uneducated shepherds the first? Because Jesus' mission was to care for the "least of these". He didn't hesitate to mingle with the unclean or uneducated. He reached out to hurting people, the sick, and the unwanted. He didn't care about rubbing elbows with the wealthy and powerful. He spent his time feeding, healing, and caring for those who would welcome him and, sometimes, those who didn't, just because he loved them all. And he still does!
So consider this: On the night that Jesus' life began in this world, an inexorable plan was set in motion—leading to the day when he would lay down his life for the world. All of this in the fashion of a truly good shepherd. So an angelic visitation to shepherds in Bethlehem—men who understood feeding and guiding and saving—was the best way for chapter one to begin.
Mel Lawrenz, Christmas Joy
Why shepherds, indeed! The answer is a simple one if we open our eyes and hearts to the message of the manger.
When God wanted to send his Son into the world, he picked the most unlikely girl he could find to be the mother. He picked a forgotten province in the Roman Empire. He arranged for his son to become a part of the hated Jewish race. Then he found the most unlikely hometown and arranged for his son to be born in a stable and take his first nap in a feeding trough.
Jesus was born that way in order to show us how God does business. He doesn't do business with the proud. He doesn't run with the rulers of the world. He doesn't side with the rich. God is at home with the humble, the tired, the weak, and the lowly of this world. He does business with those who fear his name.
Ray Pritchard, Why He Came